Regular price
RM359.20 MYR
Regular price
RM449.00 MYR
Sale price
RM359.20 MYR
Unit price
per
Sale
Sold out
Unleash greater performance by working with a greater range of motion.

Say goodbye to wrist pain because the parallettes put the wrist in a natural position.

Get the best of both worlds by combining a birch wooden handle for the strong grip, and a metal body for extreme durability.
FEATURES

- Improve your performance with exercises like push-ups, handstands, and more.
- Perfect grip by birch wood handle with a smooth finish. No more chalking.
- Built to last for ages thanks to the solid steel base.
- Invisible anti-slip patch at the bottom for a steady stance.
- Healthier wrist joints and lesser pain.
- Withstand up to 300kg per pair.
- 2 minutes assembly so you can start a workout in no time.
- Easy to carry. Workout anywhere anytime.
SPECIFICATIONS

- Parallettes dimension (LxWxH): 48.5cm x 34cm x 30cm / 19.0" x 13.3" x 11.8"
- Wooden handle usable length: 37cm / 14.5"
- Wooden handle diameter: 4cm / 1.5"
- Total weight of a pair: 6kg / 13.2lbs
View full details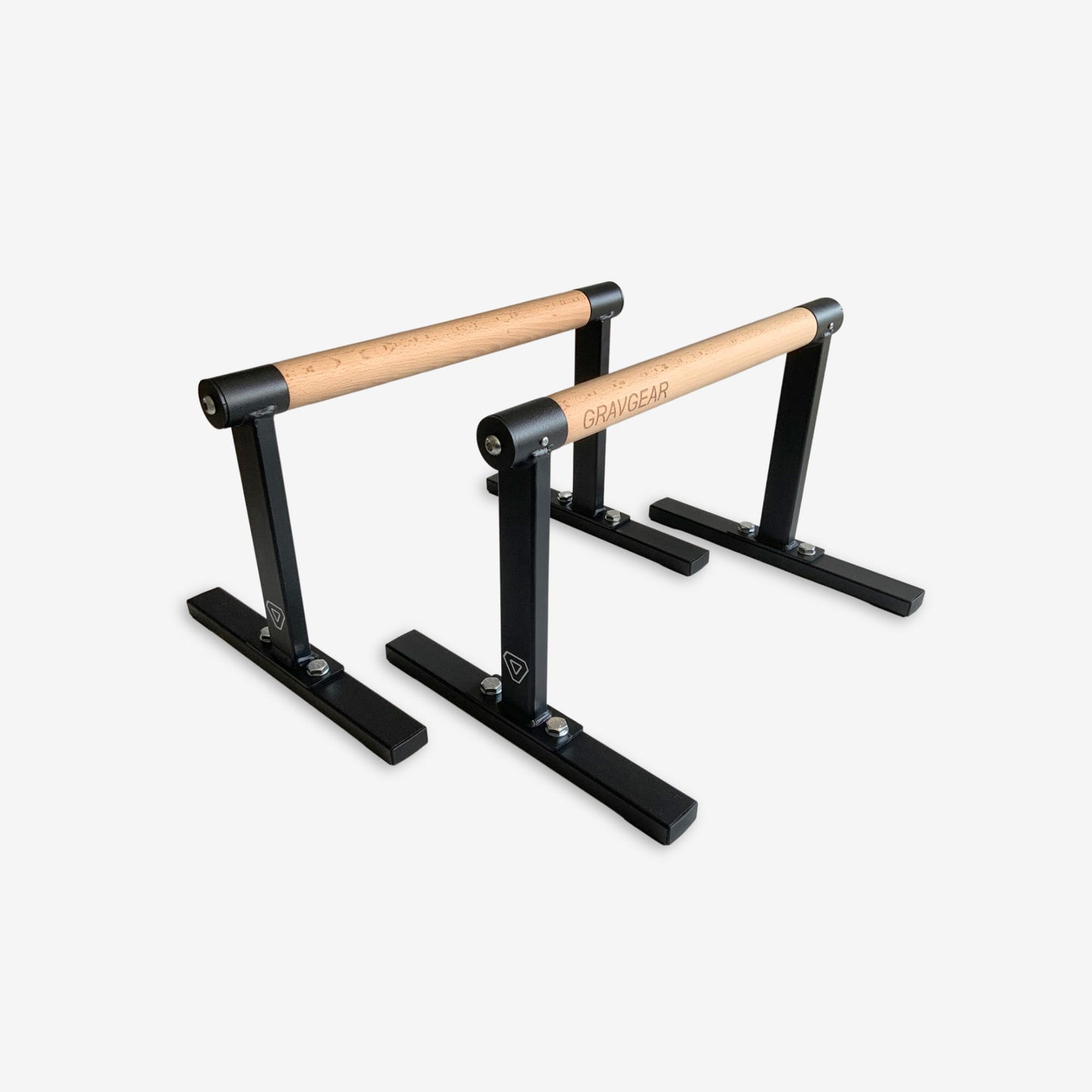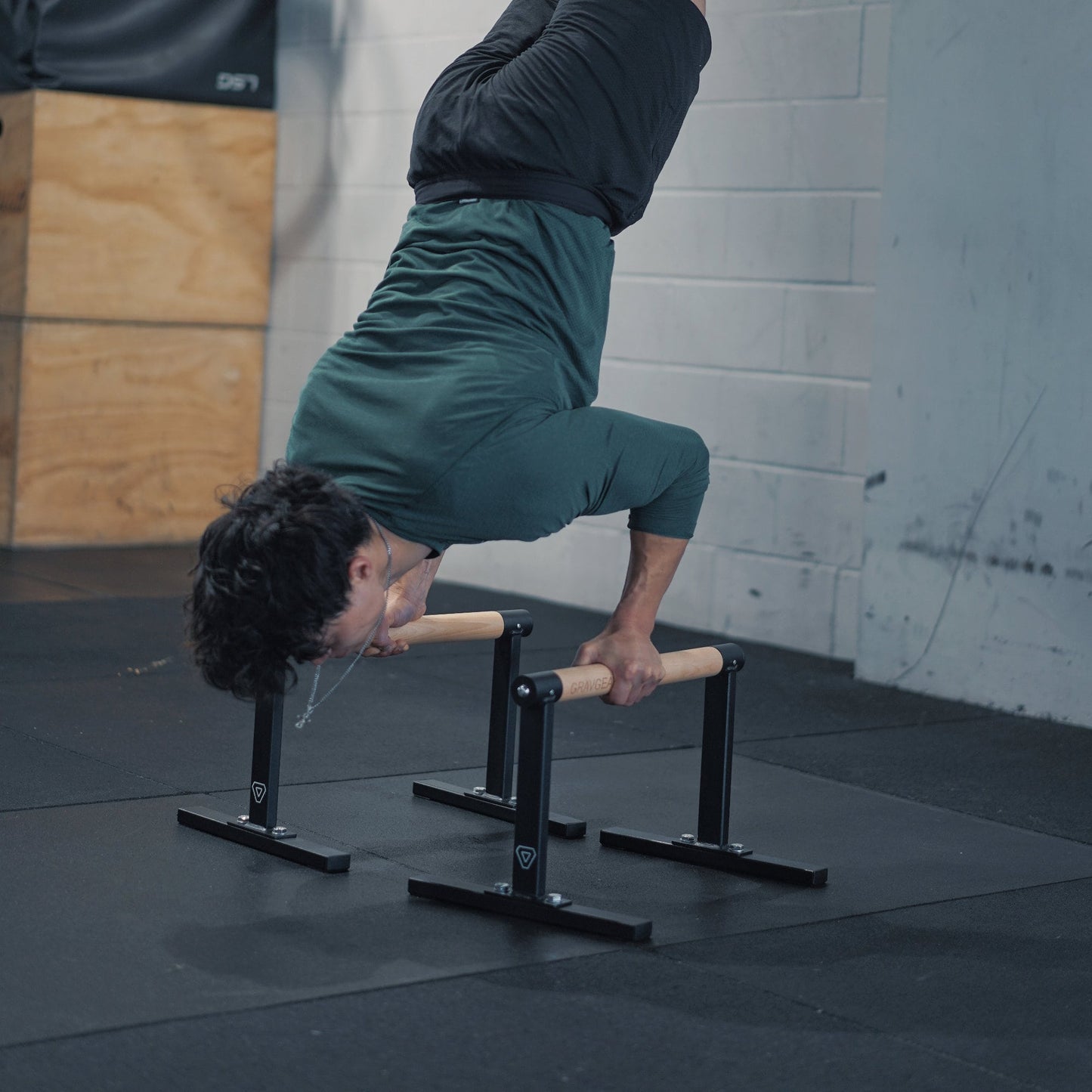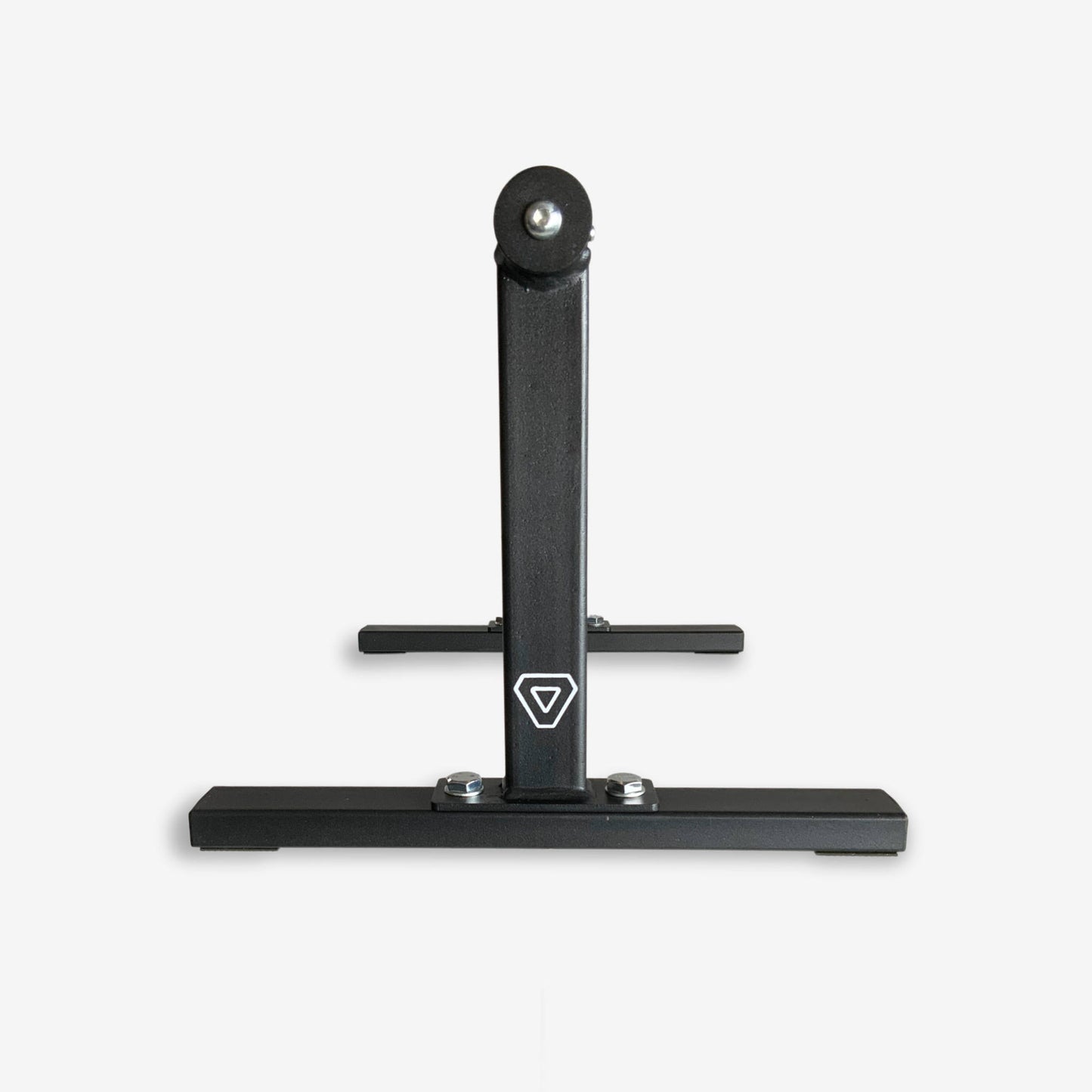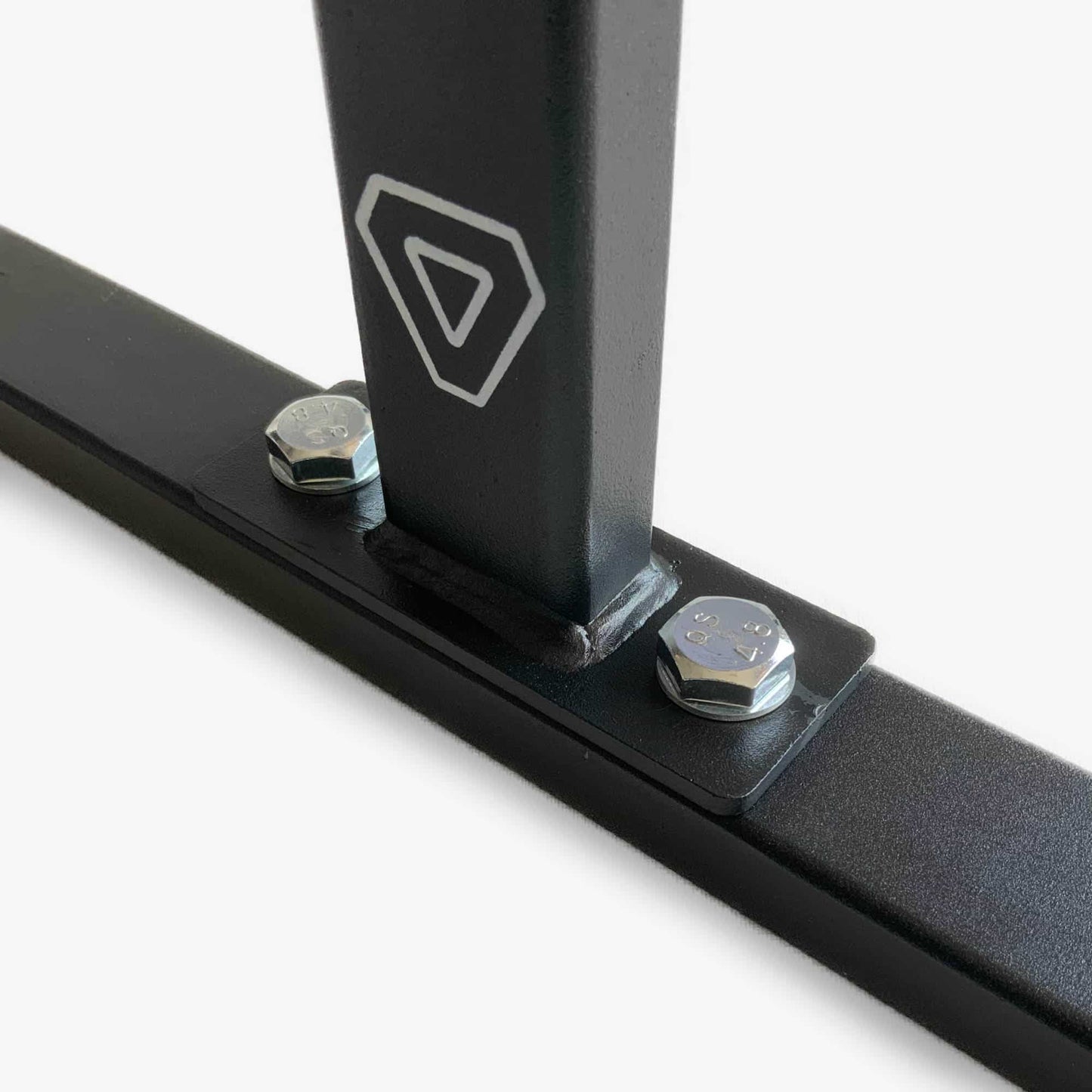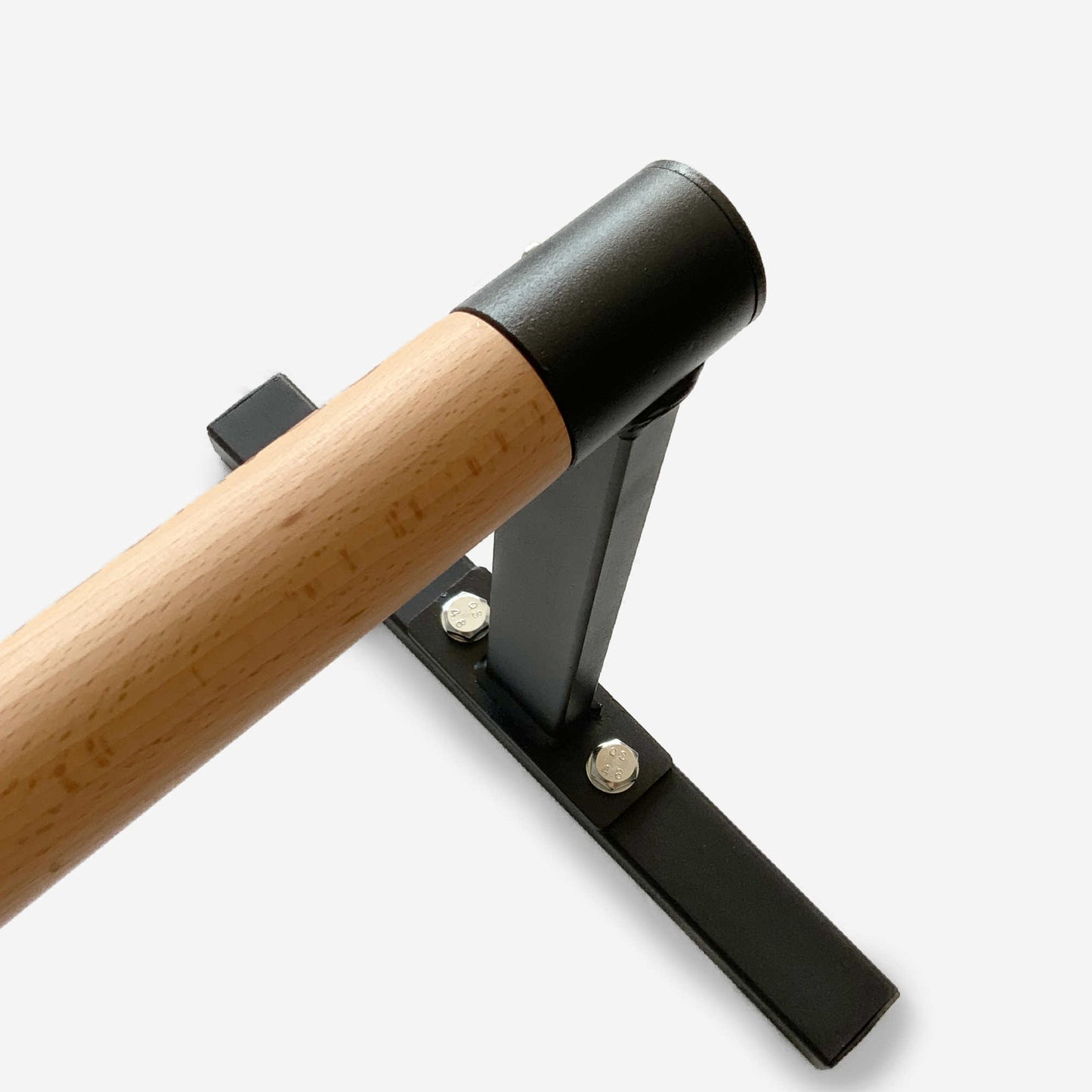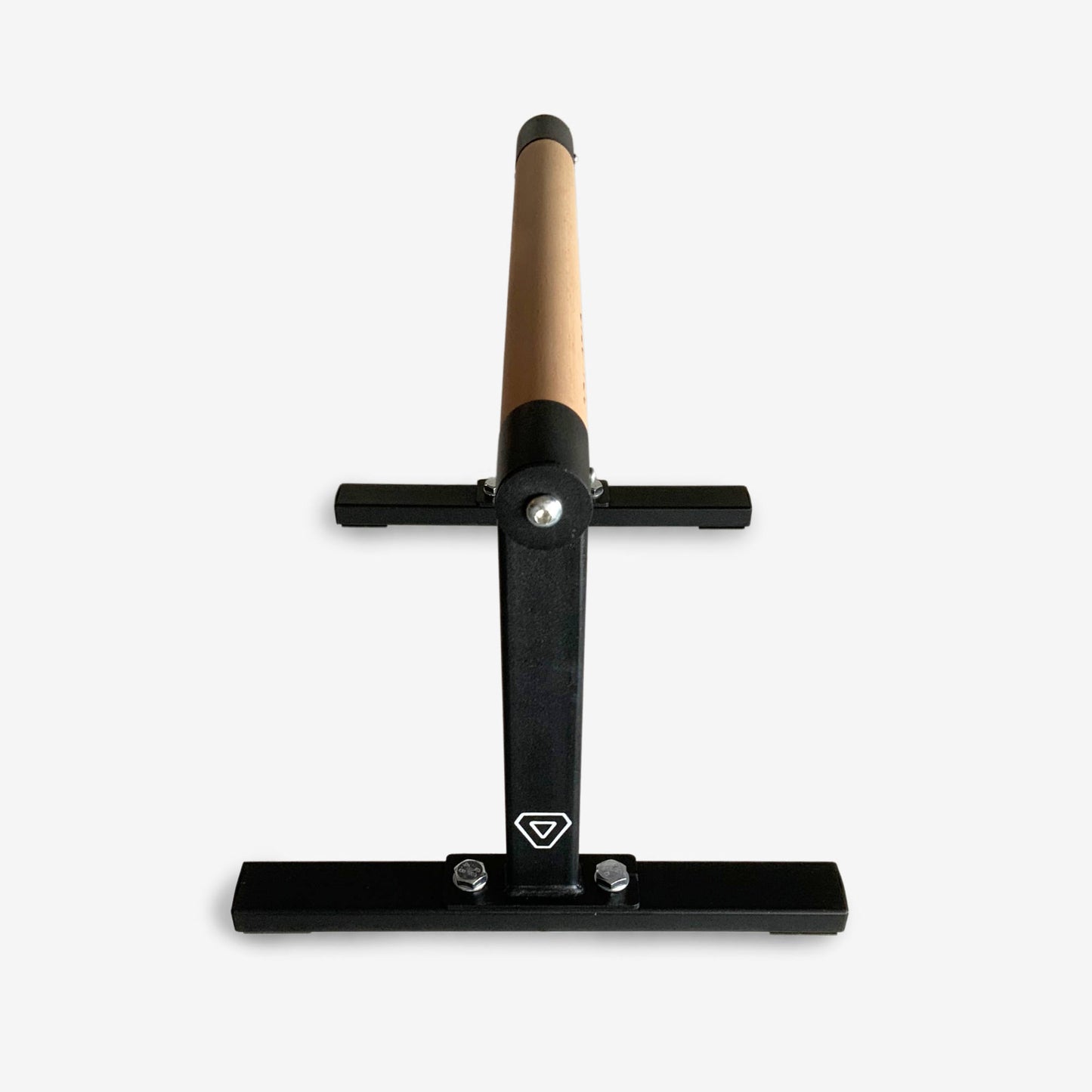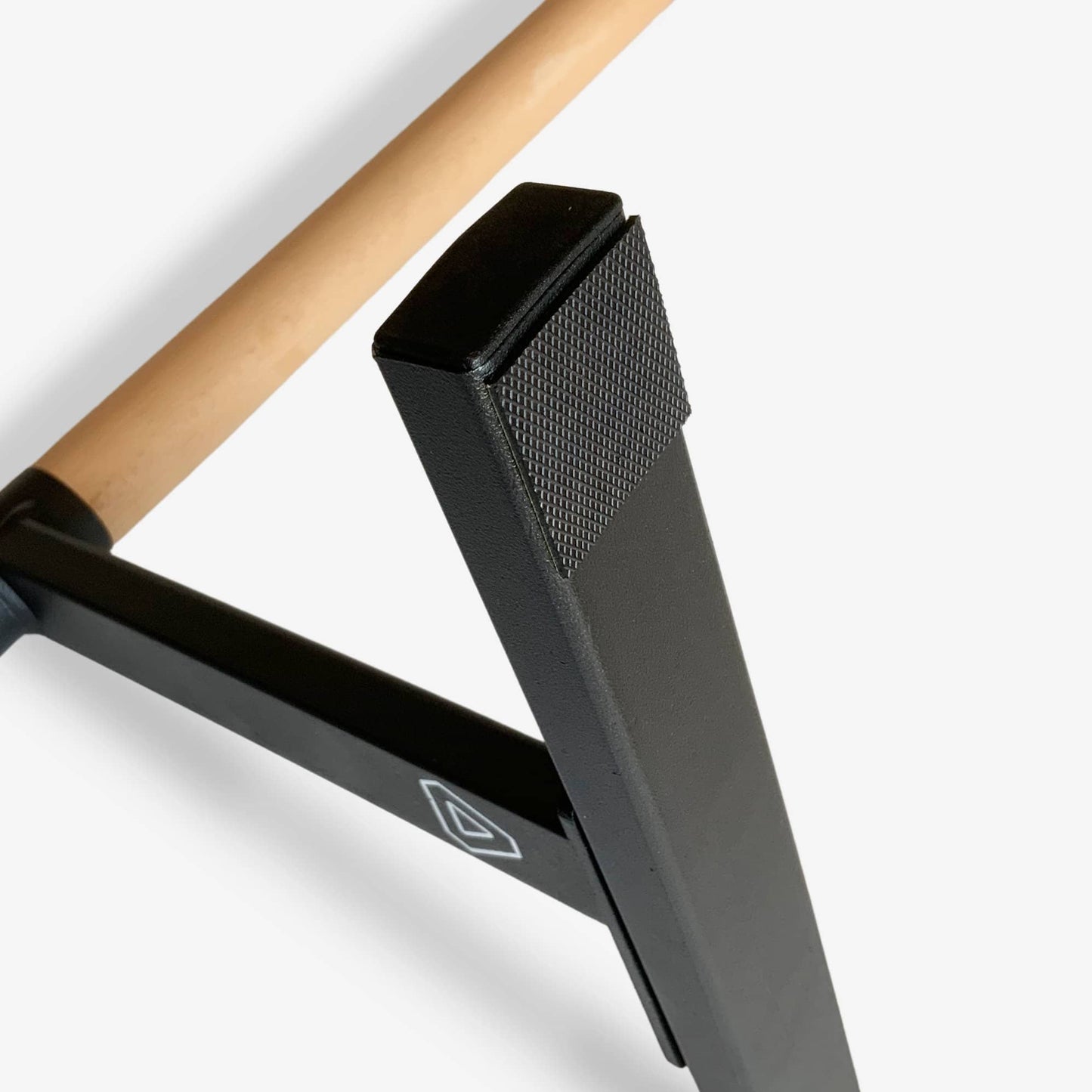 Elevate your calisthenics game.
Kiss wrist pain goodbye
Remember that scene in every horror movie where the floor creaks, and something bad is about to happen? Yeah, that's your wrists screaming every time they press against the floor. Enter our parallettes—the superhero capes for your wrists. With ergonomic design, you can kiss wrist pain goodbye faster than a villain running from the scene.
The most stable parallettes ever
Think of the Range as your stability sensei. Its longest handles make for the largest support base. It's like doing a handstand on a runway—so much room for activities and zero wobble.
Only three elephants could break them
Think of something super strong. Like, strong enough to handle three big elephants standing on it. That's how tough these parallettes are. They can take a lot of weight - and we're talking 16,464N, which is roughly equivalent to 3700 pounds or about 1678 kilograms.So, when you're working out hard, don't worry. They can handle it.
Parallettes Highlight
Birch Wood Bar

Thick and well-sanded wooden handle for the best grip. Beats metal bar any day any time.

Elevate Your Calisthenics Games

Perform any bodyweight skills on parallettes to ease the stress on wrists.

Never Slide

Anti-slip patches on the bottom for a super strong stance.

8 Screws. 4 Legs. 2 min installation.

Metal frame provides the sturdiness to last the long haul.
What workouts are these good for?
Here are our top picks, but the possibilities are endless.
Elevates your body off the ground, letting you go deeper in each push-up and engage more muscles.

Push-ups

Mobility issues? It elevates your L-sits, easing strain while boosting core strength.

L-sit

The extended base offers unbeatable stability, making your handstand solid and secure.

Handstand
impressive quality gear
Very stable and well made product. I use it pretty much everyday now !
Great product for planche training
Stable and durable feeling product! Hope to work towards a planche with this pair of parallettes
Impressive Performance and Sturdy Build
Parallettes have exceeded my expectations. They offer a combination of durability, versatility, and portability that makes them an excellent addition to any home gym setup.
Best Parallettes
Amazing quality for the price. Nicely packaged and very sturdy.
The handles are really comfortable and are at a perfect height for beginners.
I have also bought their rings which are of great quality as well. Customer service is top notch and they even give you workout tips if you subscribe to them via email.
Give it no thought and get all of calisthenic needs here.
Quality parallettes
Parallettes are very well made and extremely sturdy.
Exactly what I wanted and expected.
| | Prime | Range | Edge |
| --- | --- | --- | --- |
| Size | Tallest | Longest | Smallest |
| Weight | Normal | Normal | Light |
| Handle Length | Medium | Longest | Shortest |
| Best For | Range of motion | Stability | Carry around |
Why choose when you can have them all?
Can't decide? No worries. Grab our ultimate bundle with all three MVPs -- Prime, Range, and Edge. You'll save cash and unlock endless workout combos.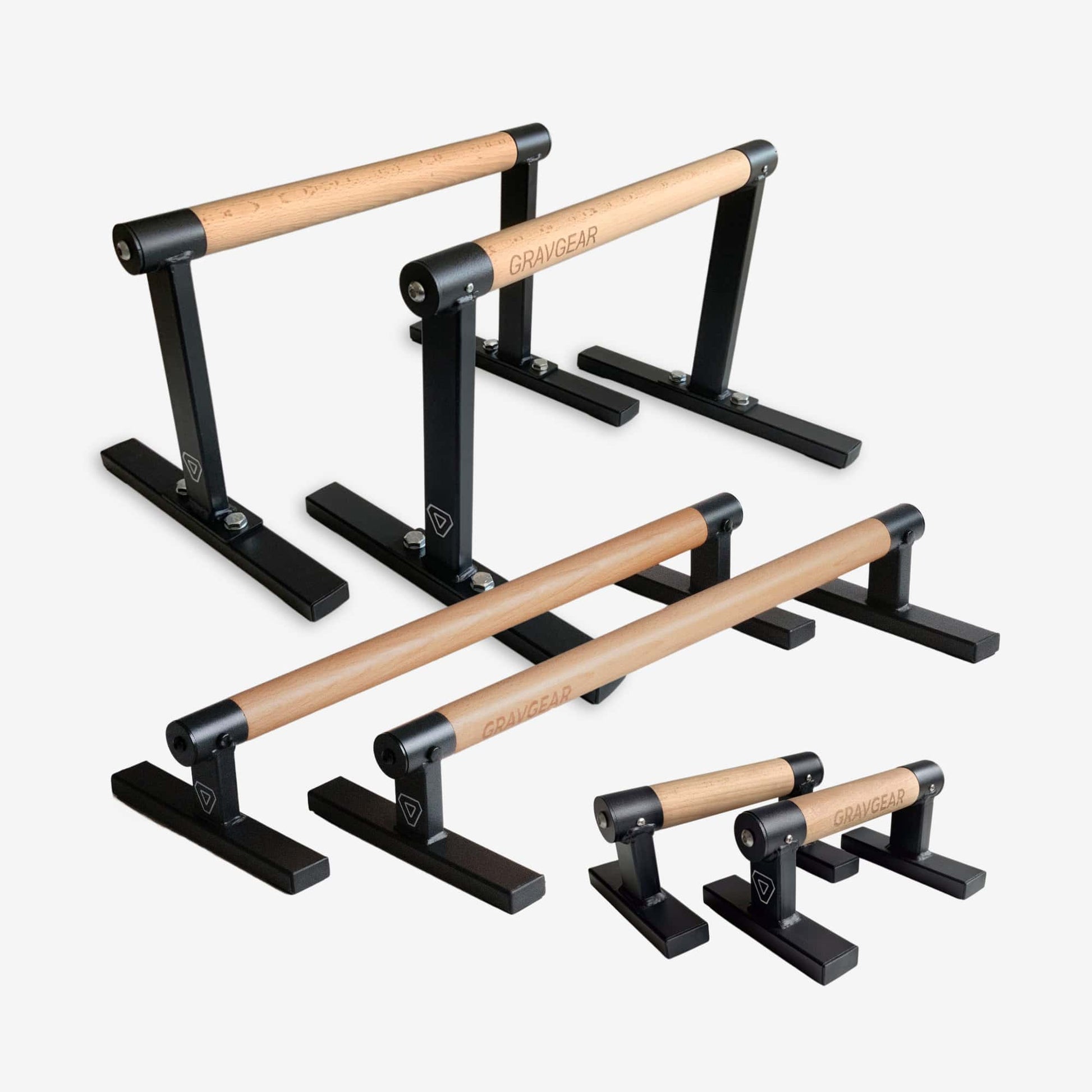 Parallettes Full Set
Regular price
RM855.03 MYR
Regular price
RM909.60 MYR
Sale price
RM855.03 MYR
Unit price
per
Sale
Sold out
View full details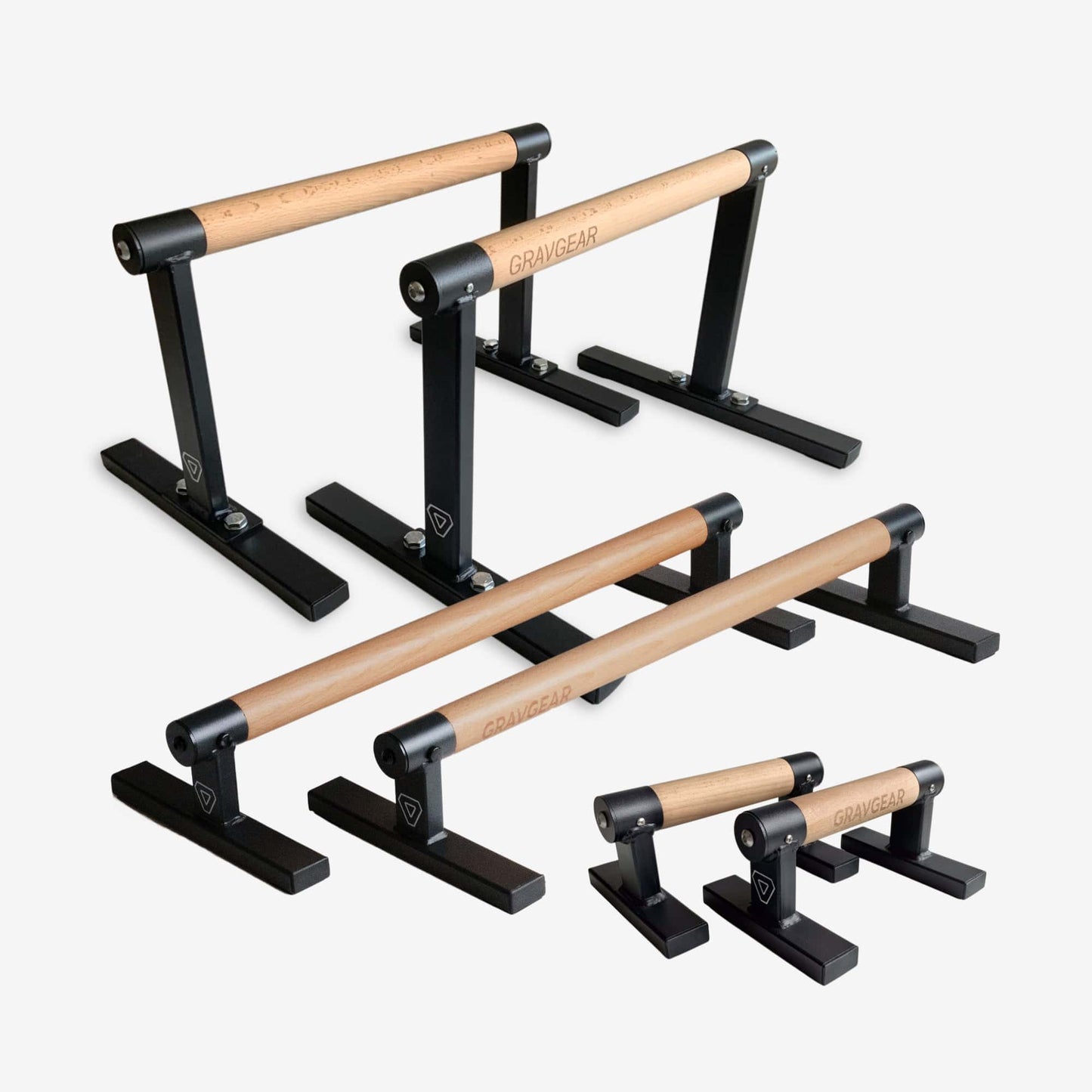 Elevate your hand position from the floor
They also introduce variation to calisthenics exercises. Variation is good for muscle growth. The elevated hand position means you can do push-ups with lower depth than on the floor. Deeper stimulation to the chest and shoulder and bigger gain.
Giving you a neutral wrist position
Why does this matter? In calisthenics, you spend all your time on the floor (besides on the bars and rings) doing all kinds of pushing exercises like push-ups and handstands. Parallettes put your wrist in a straight posture so you don't have to press them hard on the floor. This will greatly reduce the risk of injury especially wrist is not your main training target.
Make certain workouts easier
L-sit is a great example. Doing l-sit on the floor is a lot harder than on a pair of parallettes, because that movement requires strong abs and hip flexors. The elevated body position allows you to hold a not-so-strict L-sit as your legs are dropping.
Best grip and durability
Nothing beats the wooden handle for a perfect grip. It absorbs slight moisture from your palm's sweat and maintains the grip throughout the whole workout. There is no need for chalking and taping. The metal body provides superb stability that is going to last decades. Now you don't have to worry about safety while practicing the skills you always wanted.